Pay attention to these wound care "Do's and Don'ts". Common causes of non-healing wounds are often associated with inadequate circulation, poorly functioning veins, and immobilization. The board-certified podiatric physicians at American Foot & Leg Specialists understand that non-healing wounds of the lower leg and feet of people with diabetes are among the most common non-healing wounds, and one of the most significant complications of diabetes.
When left untreated wounds may become infected, and non-healing wounds could lead to lower quality of life or even amputation. This is especially true for patients with diabetes.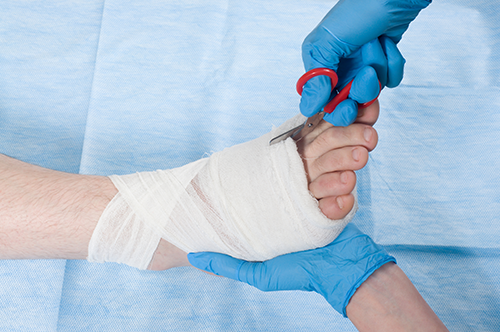 If your wound is not healed after 2 weeks or completely healed after 4 weeks, make an appointment immediately. Our physicians are specialists in treating foot wounds, especially for those patients with diabetes. Pay attention to these other signs, including increased pain, redness or swelling, foul odor, or change in color.
Diabetic wound care is a complex process influenced by a number of medical factors. Our physicians will evaluate the wound to properly identify its type, and determine any underlying problems causing the wound. Evaluation includes a complete review of the patient's medical history, overall health, and a vascular assessment.
The physicians at American Foot & Leg Specialists, are trained in treating diabetic wounds. Diabetic wound care is a team effort that fully involves the patient and our physicians, which is vital to treatment. We educate and motivate the patient to be compliant with their specific plan of care to maximize healing between visits. Patients will be responsible for proper home care including keeping the wound clean, applying any medications, and changing of dressings. Through this team approach, American Foot & Leg Specialists has had great results in healing rates and fast healing times. This means the patient can get back to living their lives in the shortest time possible.
schedule a consultation today!
American Foot and Leg Specialists draws patients from all over the Atlanta area. Our 4 locations in Stockbridge, Forest Park, Fayetteville, and Locust Grove, are just short drive from Midtown, Buckhead, East Point, College Park, Riverdale, Jonesboro, Irondale, McDonough, and Peachtree City. Schedule a consultation today to eliminate your foot and ankle problems.