Toenail Fungus Laser Treatment
Toenail Fungus Laser Treatment?
Toenail Fungus Laser Treatment is the leading technology for treating the unsightly appearance of thick yellow toenails. More and more people are looking to laser therapy for toenail fungus instead of conservative measures to rid themselves of their discolored, brittle toenails. You'd be amazed at what Dr. Loren Colon and his colleagues do with lasers. The advances in laser technology have greatly benefited the field of podiatry.
The latest laser technology delivers a gentle laser light beam that has no harmful effects on healthy tissue. In fact, it targets only the infected area of the toenail complex. No drugs or topical ointments are used, thus eliminating side effects that often accompany traditional oral medications. The board-certified podiatric physicians at American Foot & Leg Specialists are experts in treating toenail fungus and believe in this latest, advanced form of treatment.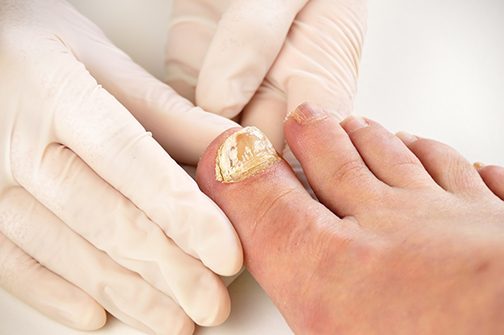 How Does the Aerolase® Toenail Fungus Laser Treatment Work?
The compact, lightweight Aerolase® laser is extremely effective at removing nail fungus with maximum efficacy, while avoiding damage to surrounding tissue. The procedure is harmless and it eliminates treatment pain and the need for continuous skin cooling, or direct skin contact with the laser. The unique MicroPulse technology packs the necessary energy for effective nail fungus treatment. The number of laser treatments varies with every patient. The board-certified doctors at American Foot & Leg Specialists will asses the severity of your infection and determine the number of treatments you require.
What to Expect After a Toenail Fungus Laser Treatment
You will begin to see the effects of the treatment after 3 months, which is when the toenail will begin to clear. The average toenail takes 6-9 months to fully grow out. Full results of the treatment will be visible approximately a year from the laser treatment.
Toenail fungus laser treatments have been proven to kill the fungus and inhibit further growth. However, our physicians recognize laser therapy for toenail fungus is a treatment and not a cure. They strongly recommend maintaining proper foot hygiene, wearing adequately ventilated shoes, and other prevention measures.
At American Foot & Leg Specialists we do not take your discomfort lightly. If you are suffering from toenail fungus we want you to feel better. Make an appointment today to allow us to expertly devise a treatment plan. If you live south of Atlanta, Georgia, there is an office convenient to you. 
schedule a consultation today!
American Foot and Leg Specialists draws patients from all over the Atlanta area. Our 4 locations in Stockbridge, Forest Park, Fayetteville, and Locust Grove, are just short drive from Midtown, Buckhead, East Point, College Park, Riverdale, Jonesboro, Irondale, McDonough, and Peachtree City. Schedule a consultation today to eliminate your foot and ankle problems.