A callus is an area of thickened or hardened skin that appears on the bottom of the feet or hands as a result of repeated friction and pressure on the skin. The skin forms a callus in an attempt to prevent painful blisters. The dead, callused skin develops to protect itself from friction and pressure.
Some people suffer from the pain and irritation of calloused skin on their feet. Doctors Loren K. Colon and Jeffrey P. Flash, along with their team at American Foot & Leg Specialists want you to know that you don't have to live with the pain. You may be bothered by calluses and think that nothing can be done to correct them, but we can help you determine what is causing your calluses and help you get rid of them and prevent their return.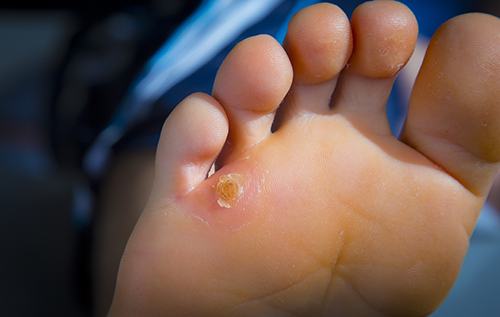 Thick itchy skin
Areas of hardened skin
Dry, cracking, and scaly skin
Calluses on the soles of the feet typically occur from a sliding friction that arises from wearing a poorly-fitted shoe. It is possible for calluses to form when pressure or friction is not present, and this can be a result of excess skin formation, or hyperkeratosis, of the top layer of skin. Walking and running are primary causes of callused feet as a result of the friction and pressure present during the activity. Any other activity that presents added pressure and friction may result in callus formation, including hiking, dancing, and wearing high heels.
Abnormal foot structure can also cause calluses. If your provider at American Foot & Leg Specialists determines that your walking motion, hip rotation, or bone structure are to blame for calluses, they may recommend an orthotic or even surgery to correct the problem.
Calluses are rarely a serious condition unless accompanied by diabetes or any other condition that results in poor leg circulation, leaving you prone to ulcers and other infections. Treatment for calluses simply entails removing the source of friction and irritation; however, your doctor may shave the callus to provide you with relief. The callus generally disappears within a few weeks upon removing the source of irritation. Wearing properly fitted shoes and/or wearing special socks can help eliminate this friction. 
Each patient is unique; therefore, results may vary. 
schedule a consultation today!
American Foot and Leg Specialists draws patients from all over the Atlanta area. Our 4 locations in Stockbridge, Forest Park, Fayetteville, and Locust Grove, are just short drive from Midtown, Buckhead, East Point, College Park, Riverdale, Jonesboro, Irondale, McDonough, and Peachtree City. Schedule a consultation today to eliminate your foot and ankle problems.