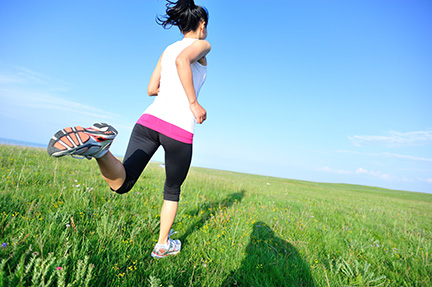 Whether you are a novice or a lifelong runner, proper foot care is the most vital aspect of running. However, it is also the most commonly neglected. Even beginner runners know to stretch their legs, but we often think that an expensive shoe is all we need to do for our feet. Shoes are important, but there are other aspects of foot care that every runner should incorporate.
Shoe Tips
All runners and podiatrists agree that shoe fit is vital to avoid complications with your feet. All feet are different sizes and shapes, so you need to understand your foot type and get shoes designed for your feet.
Running shoes also require a bit of maintenance. They need to be kept dry, so if you often run in rain, you need to invest in multiple pairs. Store shoes in a cool dry place, and keep an eye out for damage. Running shoes need to be replaced regularly.
Additionally, the shoes you wear while not running can impact your overall foot health. Make sure your shoes fit your activity, and soft-soled shoes are best.
Sock Tips
Much like shoes, proper fitting socks can save your feet, and again, it is important to know your feet. Socks that are too big will rub your feet in all the wrong places causing blisters and other problems. Socks with thick toe seams can also cause issues. Avoid cotton and invest in self-wicking socks if you are prone to sweating or live in a damp environment.
Foot Tips
If you run regularly; your feet will require regular maintenance and rest. Feet and toe exercises are core elements of foot protection. These can be as simple as toe raises or walking on your toes, or they can involve props like towel pulls or foot circles.
All runners need to be vigilant with nail care. Runners experience a multitude of toenail issues and keeping nails short and cuticles healthy can help avoid many of those nasty nail problems.
Massages are great for feet, and while having a professional or another person give the massage is best, there are many self-massage techniques that you can do.
Depending on your skin and how your feet respond to running various other services may be required. Overheated feet benefit from an ice water soak and dry feet need moisturizer.
Professional Guidance
Whether you need help finding shoes that fit, you have acute or chronic pain, or need other foot tips, the professionals at American Foot and Leg Specialists can help guide you. Our podiatric team has been protecting runners' feet in the South Atlanta Metro area since 1971. Using the latest technology and diagnostic techniques, American Foot and Leg Specialists are dedicated to preventing, detecting, and treating feet and ankles. With several locations in the Metro Atlanta area, American Foot and Leg Specialists are available to help you with any questions or concerns. Contact us today!