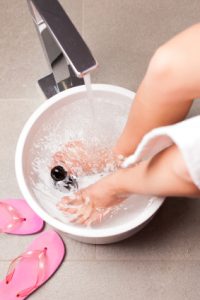 While there are many problematic diseases that affect people each year, rheumatoid arthritis (RA) presents a uniquely difficult set of symptoms. Rheumatoid arthritis can be extremely painful and prevent an individual from working. Additionally, rheumatoid arthritis can cause an individual's feet and ankles to swell. Individuals who have RA can lead a happy and healthy life by learning more about the disease and the symptoms it can cause.
Rheumatoid Arthritis: The Basics
Rheumatoid arthritis is a chronic inflammatory condition that causes inflammation of the joints. It can also result in immobility and deformity of the wrists, fingers, ankles, and feet.
There are a variety of symptoms that result from rheumatoid arthritis. However, one particularly problematic symptom is the development of swelling in the feet and ankles. This symptom can appear in both feet and will generally affect the same joints in both feet. With constant swelling an individual may begin begin to experience lasting complications such as difficulty walking on stairs or ramps without pain. As the condition becomes progressively worse, it can be difficult for individuals to stand or walk without experiencing pain.
While no cure for rheumatoid arthritis exists, the goal in treating individuals who suffer with the condition is to reduce pain and joint inflammation, prevent joint deformity and destruction, and maximize joint function. Early medical intervention is key to in improving treatment outcomes. Aggressive treatment during the early stages of the condition can prevent work disability, maintain joint function, and limit damage to joints. The ideal form of treatment for rheumatoid arthritis includes administering a combination of medications, joint protection, rest, joint-strengthening exercises, and patient education. Treatment is often customized based on a variety of factors such as age, general health, disease severity, patient occupation, and the typical joints affected.
If you have been diagnosed with rheumatoid arthritis and are in search of assistance with symptoms such as swollen feet and ankles, our Atlanta podiatry experts as American Foot and Leg Specialists can help you. To help restore your health and comfort, our trained staff will provide you with the care you need to overcome the pain associated with your foot problem and keep your feet and ankles as healthy as possible. To schedule a consultation, call us today at 404-363-9944.