FOOT CARE PRODUCTS: RELIEF IS AT HAND
Loren Colon, DPM, FACFAS and his fellow board-certified podiatric physicians at American Foot & Leg are experts in the field of podiatry.  Their goal is to provide a total-care package which includes foot care products and footwear to meet the needs of their patients.
Most people take their feet for granted until pain or problems develop. It's important to be kind to your feet and take care of them before any problems arise. Even more so it's important  to treat existing problems before they limit your ability to do your everyday activities.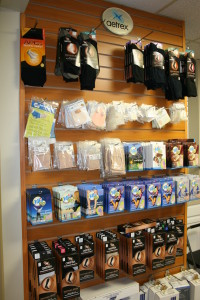 With persistent foot pain or irritations, it's difficult to keep doing the things you enjoy, which in turn can affect your mental health. Good foot care, either by yourself or with the guidance of a foot care  professional like the board-certified podiatric physicians at American Foot & Leg Specialists, will help with your independence and mobility.
To that end, each American Foot & Leg product store features Aetrex and Dr. Jill's Gels products. The Aetrex product line includes anti-fungal socks and compression socks. The Dr. Jill's Gels product line includes hammer toe pads, gel toe caps, gel corn pads, gel bunion cushions, gel toe separators, and metatarsal cushions.
schedule a consultation today!
If you have a foot condition, make an appointment with us today.  The physicians at American Foot & Leg are devoted to their patients and committed to helping them get relief. After your appointment, visit one of our product stores at any of our convenient locations which conveniently serve cities and towns in and around the South Atlanta area: Jonesboro, McDonough, Fairburn, Newnam, and East Point.