MLS Laser Therapy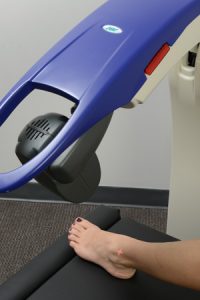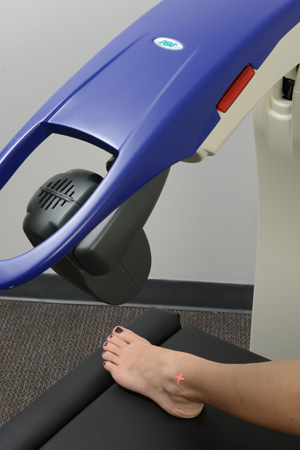 American Foot and Leg Specialists are proud to be on the forefront of medical technology, by providing the FDA approved MLS Laser Therapy treatment for foot and ankle injuries, and other conditions. American Foot and Leg Specialists use the MLS therapy to treat patients from Atlanta and surrounding areas.
What is MLS Laser Therapy?
The alternative health solution to painful feet.
MLS Laser Therapy is a state-of-the-art procedure that assists in restoring mobility to patients with various foot ailments and conditions that cause foot pain. It has been proven effective through extensive and credible studies conducted by some of the best institutions in the country, including Harvard University.
MLS Laser Therapy, also known as "cold laser therapy" is an alternative health solution to painful feet relief without surgery or medication. However, it is sometimes used to aid in healing following a foot or ankle surgery.
Not only is MLS Laser Therapy a safe way of repairing painful feet, it is also very effective in just a few treatments. An additional advantage is that each treatment is quick and affordable. American Foot and Leg Specialists are one of the few pociatric practices in the Atlanta area to offer MLS Laser Therapy treatment.
How Does MLS Laser Therapy Work?
MLS Laser Therapy is considered an alternative health solution because it lets the injuries in painful feet heal themselves. The cold laser speeds up growth and reproduction of cells in the treated area, so any torn or over stretched tissue, ligaments or tendons will heal themselves the way they would without therapy, just much faster. Another benefit is that the laser can zero in on the exact area that needs to be treated and penetrate the surrounding deep tissues, which provides an anti-inflammatory effect to pain in the feet.
Atlanta's Solution for Foot Therapy – Robotic MLS Laser Therapy
Manages Pain
Reduces Inflammation
Increase Mobility
Non-Surgical Treatment
No Negative Side Effects
Rapid Results
Non-Surgical – No Negative Side Effects – Rapid Results For:
Sports Injuries
Sprains and Strains
Post-Surgical Swelling
Tendonitis
Wounds
Bruising
 How Soon Does MLS Laser Therapy Start Working?
Most patients report that they start experiencing significantly less pain after 3 or 4 treatments. Each session of the cold laser therapy takes about eight minutes at American Foot and Leg Specialists with locations serving patients in south Atlanta.
The laser activates acupuncture points, which instantly provides pain relief. MLS Laser Therapy is a long-term alternative health solution as well, because the faster nerve cell recreation prevents numbness and limb impairment.
If you live in Atlanta or areas south of Atlanta and are experiencing foot pain call (404) 363-9944 to schedule an appointment with American Foot and Leg Specialists to find out if MLS Laser Therapy could be the answer to your foot pain.